The Opensourcery is following more closely the fast rate of innovation at Adobe as appearing in the Adobe Labs. Adobe's new HTML5 animation tool, Edge, has been of particular interest. And just 5weeks after its intro, the Edge team has produced  a new beta 2 preview. Here is what the Edge IDE now looks like: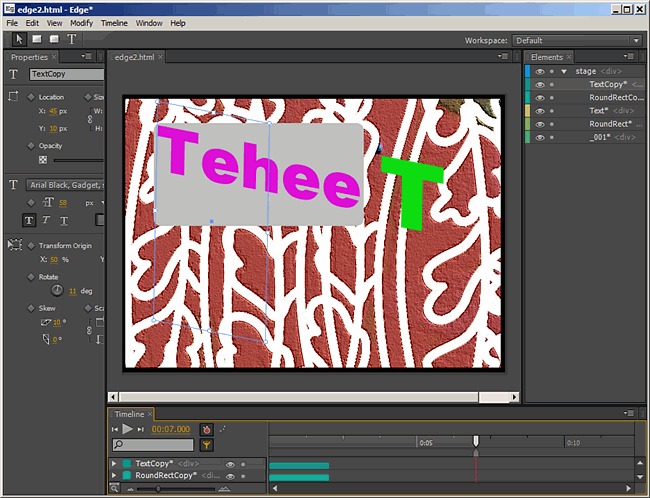 See our  full preview of Edge here.
If you look at the screenshot from our previous review, there is not much difference in the Edge IDE in the new preview. Most of the new features have concentrated on  ease of use in the IDE:
1)Edge incorporates the useful Adobe Smart Guides which make dragging and droping elements in Edge relative to existing ones a lot easier;
2)Copy and Paste not only single but multiple element in Edge – this make duplicating object more convenient;
3)Edge allows manipulation of the z-index making appearing and hiding  elements in the animation easier;
4)alignment and distribution of multiple objects is also enabled;
5)Use of the new jQuery 1.62 version has been adopted.
This has certainly made Edge much easier to use in producing HTML5 animations. But there is no sign of the Shapes and Coding, 2 of the 5 new features promised in early fall well  before Edge goes to version 1. There is no doubt Edge right now is a darn good banner ad creation tool [with no audio]; but this is far from compelling animation capabilities versus Flash or SwishMax. However, count your blessing – the HTML5  animation code works in all 5 major browsers. So the next preview will be of distinctly greater interest.