In a previous post, 10 reasons were given for doing your website development in a CMS/Blog. And  the most important reasons were  that the best blogs are Open Source, free, secure, fast  and very popular. The latter point is notable because that means  the chance of finding developer talent that knows how to customize an Open Source  CMS system for your needs is pretty high.
Now I would like to introduce the top 3 blogs/CMS systems – WordPress, Drupal, and Joomla in that ranked order.Yes, as delineated below WordPress has moved to the top as one of the best systems for developing many different types of websites not just blogs. The key is that WordPress allows not just Posts but also more types of  Pages. The result is that you and theme developers can control layout of content with greater control.
Now Drupal and Joomla share many of the strengths and capabilities to be found in WordPress as seen in the points below. Joomla has the capabilities to be turned into an online magazine more readily than Drupal or WordPress; Drupal beats both other systems with the range of its add-ons particularly in the area of charting and portal/dashboard usage. See the References below for reviews championing these systems and others like Plone and Cushy CMS.
These 3 free and Open Source CMS all provide the following services that help set them apart from many other openSource CMS:

1)Made installation and prepping the blog  for use dirt simple to do – this is now a key discriminator among the best  blog/CMS systems and its hard to choose among WordPress [simplest], Drupal [most options], and Joomla[foolproof]. But WordPress has now taken this one critical step further by making the upgrades equally simple [literally a single key press and something other CMS software charge for] to do when upgrading to new latest version of  WordPress. This has the added benefit that unlike Drupal and Joomla that have two major versions [ Drupal 5 and 6 plus  Joomla 1.0  and 1.5] with  associated communities [and therefore split templates/themes and plugins/extensions, etc], WordPress has only one as users tend to upgrade. And with the upcoming WordPress 3.0, WordPress brings the MU-Multi-user and BuddyPress -online Bulletin Board back into the WordPress fold adding features while simplifying use for the different communities.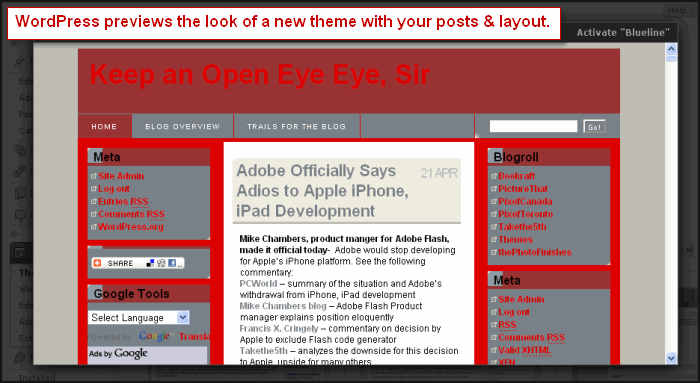 2) Made the backend support and operation considerably simpler to do. The old BBS-like command line support has been replaced by multipage GUI based dialogs and property settings. Some parties  would argue [and justifiably in all three cases] that these Control Panels are quickly  running out of control like suburban sprawl. But my counter argument is that all the new features in the the 3 big CMS have been enabled by the fact the 3 CMS are still relatively simple to administer. Here the quality of documentation is critical- see below. Again WordPress has stepped way ahead of Drupal and Joomla because you can add new widgets,  plugins [or extension modules] and themes [templates in Drupal and Joomla terminology] with relative simplicity. Just let WordPress both demo the theme change and then do the install. In the case of plugins, again from the Administration Panel, one can look for plugins and then have a selected one automatically installed. Just one click and all the FTP transfering and install routine is done automatically. The net result is that web administrators are constantly refining their WordPress blog features and styling with ease.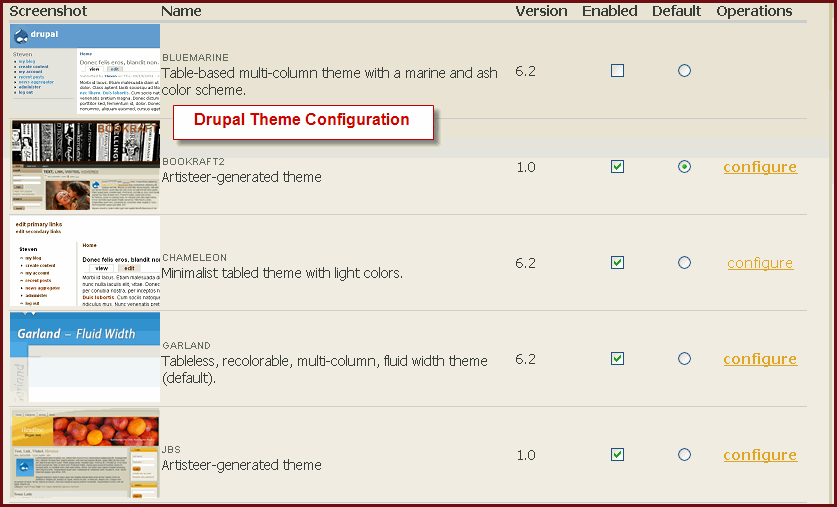 3)Made customizing your CMS for both features [plugins and extensions] and themes [look and styling] fairly simple yet wide ranging in features and/or formatting. Also all three blogs are embracing Web 2.0 JavaScript technologies from frameworks like jQuery, mootools, EXTjs, DOJO and others – all free JavaScript framework with powerful GUI widgets.   All three CMS have hundreds of plugins and themes. WordPress has the advantage of more free plugins and  themes of fairly high quality. But the paid for themes and plugins tend to be very good perhaps a notch better on Joomla and Drupal. Also Drupal has many free themes and a novel feature  in its Theme Control Panel for  changing the color and styling of themes/templates that Joomla and WordPress leave to the theme/template provider to deliver[often not]. Drupal and WordPress have a much simpler system for establishing the GUI layout of your pages; but Joomla has more options and control over exactly how your postings and pages will look not just on the front page but throughout the site.Also built into the Joomla core is the ability to time the appearance and then transferance of an  article or posting from the front-page to   Finally WordPress has the best previewing facility for trying different themes before you use it in the Admin panel.
This is the one area where the three program differ the most. So users will likely find the key differentiators here  in terms of any one CMS most closely matching their needs. Be sure to check how these plugins and templates go beyond  the base CMS  and then by adding  extra plugins/modules for features and themes /templates for styling – most closely match your needs. Again web developers should be able to assist in this task.
For example, Joomla offers plugins that can do Project Management, eCommerce plus chatting with instant messaging among dozens of tasks . Drupal has modules for eCommerce too but also for statistics with advanced charting or syndication with sophisticated reportwriting among its  scores of plugin modules.   WordPress has over 9000 plugins covering everything from website backup through charting/dashboards to project tracking.  So be sure to look through the plugins  and themes [Drupal themes, Joomla templates, WordPress themes] available [including 3rd party commercial products – they often have demo versions] to match your needs now and in the near future to what the three CMS have  available. By the way all three CMS  have a 5star rating system and extensive search capabilities for both plugins/modules and themes/templates along with advice on what licensing is required and what versions it has been tested on. Again this battery of supporting extensions and themes is what sets Drupal, Joomla and WordPress apart from most  other CMS.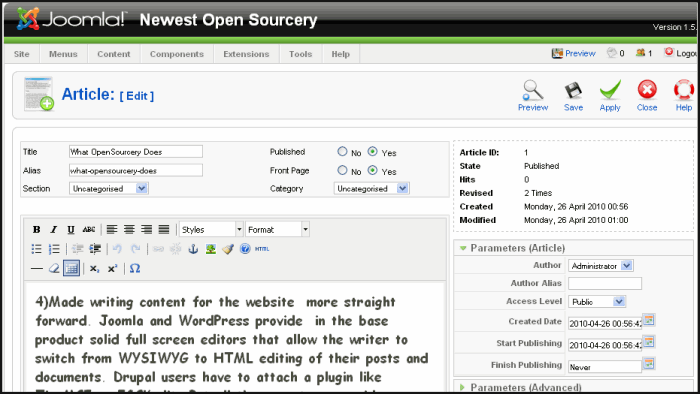 4)Made writing content for the website  more straight forward. Joomla and WordPress provide  in the base product solid full screen editors that allow the writer to switch from WYSIWYG to HTML editing of their posts and documents. Drupal users have to attach a plugin like TinyMCE or FSCKedit. But all three systems provide versioning  with automatic autosave in the case of WordPress but configurable in Joomla and Drupal. So users have available   a history of the different stages of an article/post from start to finish. However, users will have to go to the plugins/extensions to find good routines which  allow annotations, diff-comparisons and sophisticated concurrency control and sharing as in major commercial CMS such as Lotus Notes. Among the 3 CMS, WordPress goes a step further allowing sophisticated multisites all under one version of the server with its MU version. Checkout the NYTimes site which uses WordPress MU with over 60 blogs.
But of equal importance is the ability to setup tags, categories and other taxonomies so that posts and blogs can be easily searched  and specific posts found. Some of the more advanced themes take advantage of this meta info to help in the SEO and other online accessibility. Also some "magazine" templates/themes use this meta info to present articles in the appropriate subsections of the blog. Finally, with many type of menus and pages one can set up dashboards and other special website applications.

5)Improved the use of a broad range of media. Flash, images, audio, video, HTML tables and most JavaScript can be used in all three CMS systems. I have seen rapid improvements especially with Drupal  and WordPress in the past 6-9 months so it is hard to say which system is in the lead. Many plugins use JavaScript as their driving engine. jQuery seems to be the most popular with its strong set of GUI widgets. But I have also seen DOJO, EXTjs, mootools  used in the various plugins, widgets, and inserted them myself in various posts. However, I find that JavaScript routines that require .CSS files can cause problems triggered by name clashes with either JavaScript variables and/or functions or namespace conflicts among the CSS files. So caveat emptor here. Finally, Flash is welcome here and performs well.
6) Deliver high levels of Security, Reliability, and Performance speed. Security is always a top concern and all three systems provide pretty solid security in their base systems but the 3rd party widgets and plugins/modules are less so. The following are the profile of Security advisories listed at Secunia since January 1 2009 to date:
1)Drupal's Secunia Advisories – 156 security advisories since Jan/1/2009; of the most recent 25, 17 were less critical, 7 moderately critical, 1 highly critical and all were patched;
2) Joomla Secunia Security Advisories – 192 security advisories since Jan/1/2009; of the most recent 25, 24were moderately critical, 1 highly critical and 18 were unpatched;
3) WordPress Secunia Security Advisories – 15 security advisories since Jan/1/2009; of the most recent 15, 8 were less critical, 4 moderately critical, 3 highly critical and 4 were unpatched – 2 critical;
From this Secunia data it is easy to see that WordPress has considerably improved its security profile vis a vis the other 2 CMS. All three are presented with the problem that 3rd party plugins are a considerable part of the security advisories and many of the unpatched ones. The conflict is to encourage new features with many 3rd party extensions/plugins but with the downside of diminished control of  security and/or reliability
In speed and performance it is very hard to find benchmarks comparing the 3 CMS systems; however it is possible to find speed optimizations that can really tune the systems for higher performance. For example here is one for WordPress that  reduces response delays by a factor of 100 or better. The problem is that users must have access to the MySQL and PHP engines to make many of the suggested fixes – and this is simply not possible for  users that are employing Web Hosting systems.
Meanwhile the new Drupal is targeting high scalability while giving away some speed as reported by InfoWorld. This may cause Drupal to split a third time with Drupal 5 and 6 users reluctant to upgrade to 7  [and sacrificing response time  speed] unless they need to scale. Their reasoning will be influenced by the fact  that Google has notified users that response time will now become a part of their page ranking routines. So users will be looking to optimize their CMS response  performance. Here are some ideas for Drupal and Joomla:
Drupal Speed Tips: Quick tips at Drupal.org WimLeers Detailed Tutorial
Joomla Speed Tips: Joomspot JoomlaPerformance – great source
Reliability data for all three CMS systems is hard to find so I can only report from two sources. First, scouting through the forums for all three products I see the usual hack mistakes causing problems at install or developing a page or theme; but I have yet to see major reports of continuing reliability problems. Ditto for my own experience. I maintain 4 Joomla, 3 Drupal, and 10 WordPress sites and have never had any operational problems with the sites except when using new plugins/extensions. But the core CMS for all 3 systems are pretty solid. In the case of plugins and extensions, I now read the reviews and do careful http://localhost testing before adding a new plugin, extension, or module onto a website.
7)Documentation and Development tools. Until recently not much was required to do development in any of the three CMS beyond having a good text editor and knowing where to find the documentation for each system. But that has changed in two ways. First, the documentation for the systems now goes well beyond the getting started, install and first posting type treatment. As listed below users will find a wealth of videos and in depth tutorials on all sorts of aspects of CMS operation and development. Tips on adding themes and plugins, new menu methods, SEO techniques are available as free how tos. But the second trend is the emergence of 3rd party open and commercial tools that allow users to develop directly in the CMS changing CSS, template/theme files and for the astute developer even plugin files. Here are some of those 3rd party tools:
Artiseer – allows drag and drop-like creation of theme/template files for Drupal, Joomla, PHPBB, WordPress
Eclipse – Web versions support CSS, HTML, JavaScript and PHP file editing with Intellisense etc.
NetBeans – Web version also support CSS, HTML, JavaScript and PHP full editing.
Dreamweaver CS5 – provides live view plus code for PHP themes and widgets for Drupal, Joomla and WordPress
In sum, the market is beginning to react to the emergence of Drupal, Joomla WordPress as the top CMS tools and thus delivering tools that cater to their themes,  modules, and overall framework for design. This is a positive trend as traditional Web development tools like Visual Studio,  Aptana, Komodo  and even Dreamweaver until now have ignored the move to these CMS systems.
Summary
As becomes evident in this review all three CMS systems provide developers and users with a platform that makes both creating and customizing their websites for dynamic interaction with their customers and clients very simple. Styling and updating the look and feel of a website is notably easy to do with hundreds of different themes available many for free but also a number of supported commercial designs. And posting to the websites is simplified with WYSIWYG editors and version control along with various role based access for different contributors. Finally, all three CMS have been delivering App-like plugin functionality for at least half a dozen years [well ahead of Apple and the mobile smartphone gang]. So it is possible to make your Drupal CMS or Joomla  WordPress blog into a great project management tool or very capable Design magazine or a real eCommerce seller site. All of the CMS do these basic chores equally well. However,  WordPress stands out.

WordPress steps out ahead of the other two CMS for five major  reasons:
1)WordPress has made upgrading/updating the CMS for security fixes and/or major feature extensions very simple and easy to do. This not only saves time but also  has the benefit of keeping the CMS reliable and secure as well as  helping to prevent the splitting up of  the CMS into 2 or 3 increasingly incompatible versions [themes and or plugins/modules don't work, features and usage are no longer identical, etc.].
2)After garnering a shaky security and/or  reliability reputation in 2005-2006, WordPress developers have completely turned that reputation around. Now WordPress has one of the best security and reliability records in the CMS world. NYTimes has over 60blogs that are WordPress based.
3)WordPress make administering its sites very easy to do. It is is easy not only to preview a new Theme but then to change the sidebar and widgets and even the underlying CSS and styling coding. And trying out a new plugin is almost one button press and done, again with a solid search and preview feature like for themes. This is important for designers and developers who can show clients live some of the possible changes that can be made with new themes and/or plugins[but be sure to rigorously test those plugins before final commitment].
4)WordPress is fast. And optimizations are available to make it even faster.
5)WordPress has adopted agile development. This means there are notable upgrades to WordPress every 4-6 months. Because upgrading is so easy [caveat to  those that have added specific changes to the Open Source WordPress code modules, upgrade here with caution because some of the calls and APIs you use may change from time to time] – users can take advantage of these upgrades very quickly. In contrast, both Joomla and Drupal tend to follow a major upgrade cycle of one to two years – stretching out major feature upgrades.
But all three CMS systems have a common set of weaknesses. All three have been slow to adopt the new JavaScript frameworks for adding GUI drag and drop and widget features to their CMS. Currently, users must choose the templates/themes they use very carefully if they want to use widgets like Tabs, Carousels, Lightbox galleries  and other Web 2.0 features. All three CMS,  after a fairly rapid adoption of RSS and XMLRPC, have slowed considerably in adopting SOAP and other Web Services links to other systems. True these features are business and large organization oriented – but with the expansion of mobile, social media websites like FaceBook, LinkedIn, MySpace and Twitter plus Cloud Computing -being able to integrate and collaborate across systems/applications is becoming ever more important.  Finally, none of the three major CMS have adopted much use of HTML5 with its Canvas, SVG, and offline usage capabilities. The latter along with advanced JavaScript Form and Charting capabilities will become ever more important to users accustomed to the Apple/Smartphone "an app" for everything interface.
So for developers for whom these requirements are important, there is posted at the end of the References below a list of ten CMS systems that tend to meet these missing requirements a bit better than Drupal, Joomla or WordPress. But despite this proviso I am confident in recommending WordPress first and then Drupal and Joomla for any first time website and most other medium to large scale web developments. In fact, the reverse applies – developers should explain why they are not using these tools for most of their Web development.
References:
Communcopia – Joomla versus Drupal overall
Slayerment – best detailed Drupal vs Joomla vs WordPress comparison
LevelTen – Some quick fluff on Drupal vs Joomla vs WordPress
goodwebpractices – looks at the overview of Drupal vs Joomla vs WordPress
Drupal Modules: Drupal.org DrupalModules Best Modules BestRank Noupe Appnovation GUI Designer
Drupal Themes: Drupal.org Theme Garden FreeDrupalThemes ThemeBot Mulpo MogDesign GeekTip
Joomla Modules/Extensions: Joomla.org 10 Best Free Joomla21 AJAXLine evoHosts
Joomla Templates: Joomla.org BestofJoomla TemplateMonster Joomla24 Freetemplates Templates.com
WordPress Plugins: WordPress.org SiteSketch WPHacks VisionWidgets Sadhas BestWordPressPlugins
WordPress Themes: WordPress.org bestwpthemes PageLines TopWPthemes Themes2WP LeVoltz  
Best combo WordPress Resource: WPMU Dev – The premium plugin and theme vendor;  many are free and prices are reasonable
10 Alternative CMS System – If the top 3 CMS systems don't meet your needs there is a robust set of Open Source CMS systems many of which can be viewed, tested, and tried live at OpenSource CMS . Here are some of the  CMS  systems that take a different approach that may be useful in meeting your specific requirements:
Alfresco – Java-powered documents, records, collaboration and web content management that scales
Concrete 5 – PHP-powered open source  CMS with versioning, file management and drag+drop layout
CushyCMS – HTML+CSS based simple,  easy to use CMS for Web knowledgeable developers
dotCMS – Java-powered CMS with versioning, syndication, templates, and WYSIWYG editing
Expression Engine – PHP OO Code-Igniter Framework used to drive this flexible CMS
MODx – another PHP-OO framework for doing nifty content and template management
MovableType – Perl-powered page, blog, image and template management
Plone – Python-powered CMS system with time-based publishing
SilverStripe – OO-extended Sapphire PHP frameworks provides extensible modules, themes, widgets
TYPOLight – AJAX/mootools +PHP powered calendar, file, form. news and blog features
---
Update 2 : See our updated review from Feb 20th, 2012 –  Best

Free

Website/Blog Software: Google Blogger vs WordPress.com.
Yes, users can get
free
Website/Blog development services including a unique subdomain name, free hosting services including large initial free storage [about 3GB]  for pages, posts and their resources plus large-to-unlimited bandwidth on the hosting accounts.
For people just getting started in blog or website development, this is the way to go to get up-to-speed
on what is possible with free CMS at the lowest possible cost.
Update : Here is a free report on the twenty best CMS services for 2010 that ranks WordPress, Joomla and Drupal well above all the rest of the Free CMS systems. This report emphasizes measures of acceptance in the market rather than features as done here. But the report also gives a clear idea of support in the both the user and developer communities – very useful info.
---