Perplexity.ai, the Better Answers Engine, is cursed with a name that Thesaurus links to puzzlement, abstruseness, inscrutability, and brain twisters. Yes, this reviewer is an enthusiastic user of Perplexity for its ease and speed in finding  answers to tough multi-target queries, But other reviewers have also consistently cited many positive Perplexity attributes:
1 – full free set of features with easy setup;
2 – easy to use conversational input with point & click access to copilot, focus, settings, and discover options;
3 – no advertising distractions but rather citations + links to each header and throughout  summary arguments;
4 – no-tracking privacy means your query info is not shared;
5 – multi-target queries can be delivered in multimedia [text, image, video, audio].
Here is a sample of a Perplexity query: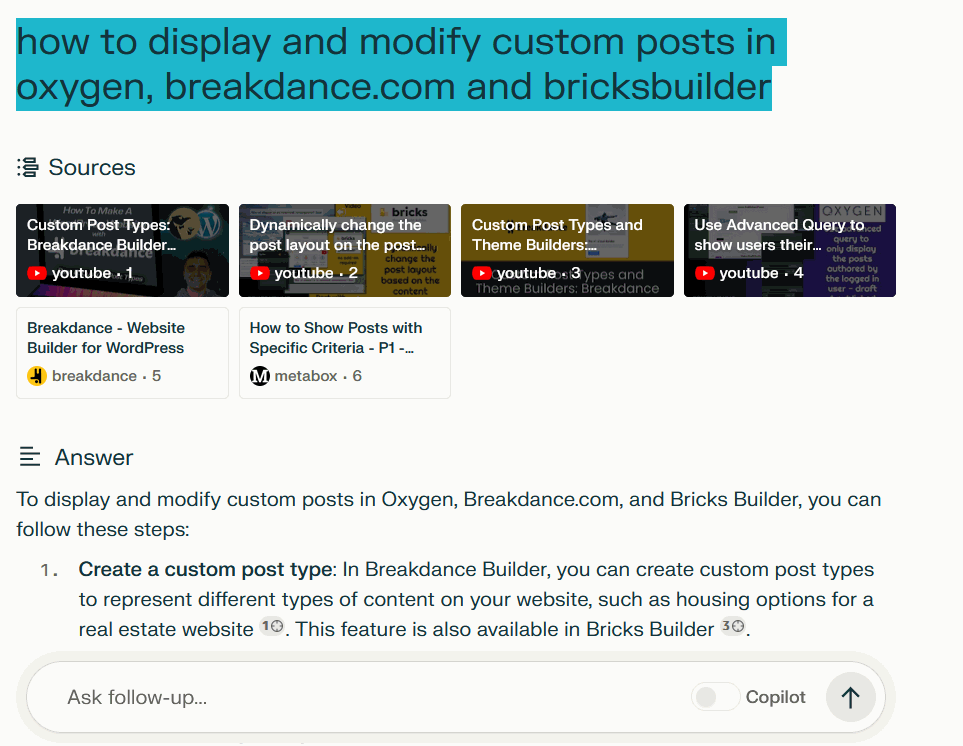 There are 3 things to note about this result. First, Perplexity 's LLM-Large Language Model understands that Oxygen, and Bricks Builder are WordPress plugins. Second, it will find and summarize the steps required to create and display CPT-Custom Post Types using the three tools. Finally, Perplexity found written and video responses to the query. It is notable in over  5000 queries since starting using Perplexity in February 2023, I have yet to be led astray in contrast to say ChatGPT which can occasionally a)simply not have the latest facts due to older data source problems and b)occasionally guess wrong about trends and/or simply makeup stuff.
So I have taken to using other search engines when the Perplexity citations appeared thin or suspect using some of the best free, privacy-ensuring [no tracking or sharing of your search query info] and low-no advertising/promotion search engines. Here is a list of alternative  free,  private/non-tracking search engines:
1 – DuckDuckGO   – free browser and search engine with low promotions, regional filter, & !bang search code;
2 – Brave – free browser+search engine pledging private, independent, and transparent service;
3 – MetaGer – is an ads free, private search engine available in English, French, and German editions;
4 – Qwant  supports 12  languages & doesn't track you or your device and does not log your search history. One flaw – it has an affiliate agreements with eBay, Trip Advisor, etc  which may color search results;
5 – Mojeek – free, private no-tracking search engine which does not use major crawlers like Google, Bing etc;
6 – SwissCows – is an installable app that provides anonymous, no tracking, no ads using the Bing Engine  as core.
7 – Start Page – Dutch no ads, no-tracking , private search engine; but it relies on anonymizing  Google engine work;
8 – SearX – Uses OpenSource implementation to provide ads free, notracking anonymous searches
Comparitech has not only a list of free , non-tracking, ad-free search engines but also explores the key question of how these "free" engines pay for their operations. This is a critical question about the viability of anonymous, no-ad, no-tracking searches in an era where the fake solicitations of cookie permissions are to "only be used" for performance and operations purposes. Meanwhile, you as a user suddenly see increasingly invasive ads and notifications based on Google selling your profiles and browsing data to the highest bidder. Google can do this because it owns
So What Does Perplexity.AI Pro Add to its Search Results?
Perprlexity Pro has intrigued me  – for $ 20 USD/month how much better does Perplexity Pro deliver search services and insights? I had a tough search problem regarding support for displaying and customizing CPT-Custom Post Types and Metafields by the newest WordPress Themebuilders – Breakdance.com and Bricks. So I bought a one-month subscription to Perplexity.ai Pro. and set out to find out what new info it could provide on a tough WordPress standards problem.
The new features that Perplexity.ai Pro adds to searches are promising for ease of use as well as results: