At the Toronto WordPress Meetup Group we have been doing a series of presentations about the substantial  widgets and features  available in  Elementor. But in the process of doing the research  some Elementor add-on vendors offer freemium packages in which their free components and widgets are very attractive – such is the case with ElementKits Add-ons. So this review will look at 4 free Element Kits  widgets that truly extend the features of the Free version of Elementor.
The Element Kits Widgets
Element Kits brings a surplus of  38 free widgets across a wide spectrum of valuable features.Many Element Kits widgets  are not available in free Elementor so many really extend Elementor's capabilities. The first is the Image Accordion  widget. As seen in the screen shot below, this widget acts as a control center for dispatching users to their topics of interest The Accordion can be packed with 4 to 8 images with descriptive title and button links to the product or topic of interest.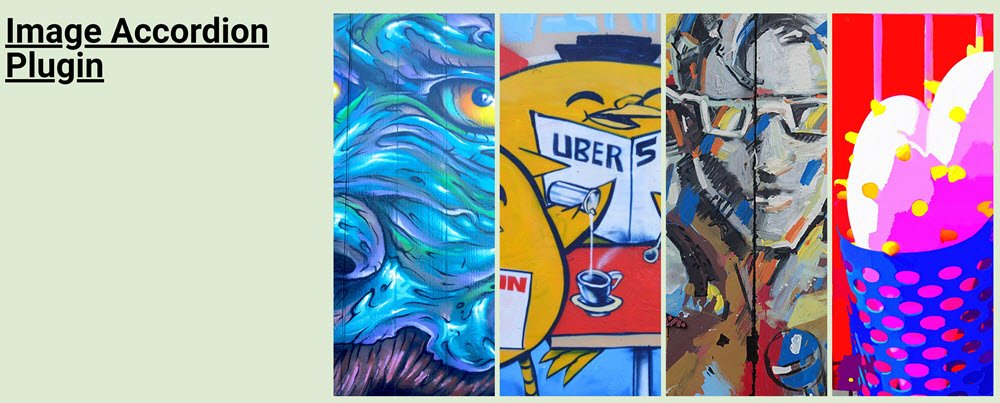 The use of Icons and Buttons appears to be cosmetic. Also there is no Lightbox for fullsize view of the images.But stripped down, the Image Accordion is a valuable control widget.
One of the biggest requirements in a mature website is to be able to show a grid of your posts, products or other components in a quick grid layout.  For the theOpenSourcery, Home page just such a grid layout is provided by the Elementer Pro Portfolio Grid plugin – but that costs $39. ElementKits offers a free plugin that does most of what Portfolio grid does: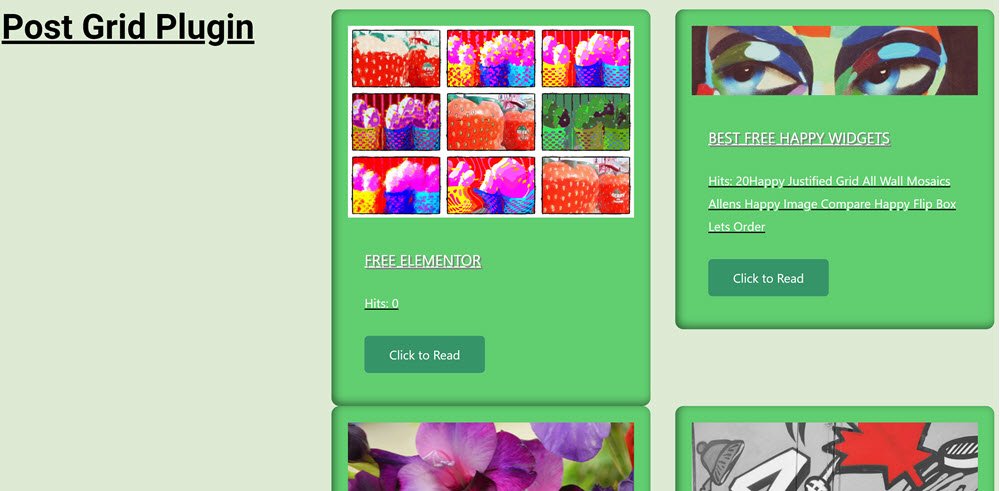 Users contol the query, layout, and styling of the Posts shown in the grid. Thus the number and selection of the  posts is determined in the settings. Layout options determines what and whether items about each post are shown: featured image, author, title, date of publication, categories assigned,  amd other meta data attached to the post. Finally there are a full set of styling options including backgroud color/image, box shadowing, corner rounding, plus typography of all the text options. If you want to attract more readers into your product/service pages and posts – start with a great post grid page.
Our third example shows off two free features of the Elements Kit. First, Elements Kit allows users to create their own headers and footers as seen in the screenshot  below:
The header and footer were designed in Elements Kit Header/Footer tool [there is a also a free Megamenu tool]. But these tools require either Elementor Pro or the Pro edition of Elements Kit to unlock the layout flexibility of being able to have special menus/headers and/or footers for landing pages, SPA funnel promotions or other special pages on your website.
The Testimonial Carousel could well be a Team members Carousel. This is the type of Widget that I have looked for whenever dealing with  teams, members or even a list of key services And the Testimonial Carousel is chock full of layout options so one can easily make Your  Carousel look unique and engaging. This widget hints of Elements Kits Pro widgets and specifically the Widget Builder.
Elements Kit's Pro Features
Elements Kit specializes in 4 widget areas with 2 or 3 related plugins –
MegaMenus with MegaMenu Builder and Vertical MegaMenu widgets
Tables and lists of data with Data Table, Table Press and Advanced Table widgets;
 Advanced widget tied in with Toggle Tan and Accordion widgets;
Widget Builder which is the real prize for HTM/CSS/JS savvy developers;
Lets start off and take a look at what is possible with MegaMMnus. Here is a sample of  what can be done with the Vertical MegaMenu Builder:

In general the MegaMenu Builder has 2 ways to get started. User can go to Appearance | Menus  and use the familiar  WordPress Menu Builder . Element Kits has added functions to the WP Menu Builder allowing it to do magamenu layouts. The second method draws on the Elements Kit's application template  which can download sample mega menus, Then users can edit and customize the megamenu with  Elementor and the Menu widgets. Suffice it to say there are may layout and styling options available.
Tables are starting to appear in more "simple" WordPress apps. Think membership lists, contest reults, time series data, etc.But now tables have images and icons in the column values plus the need to sort & paginate: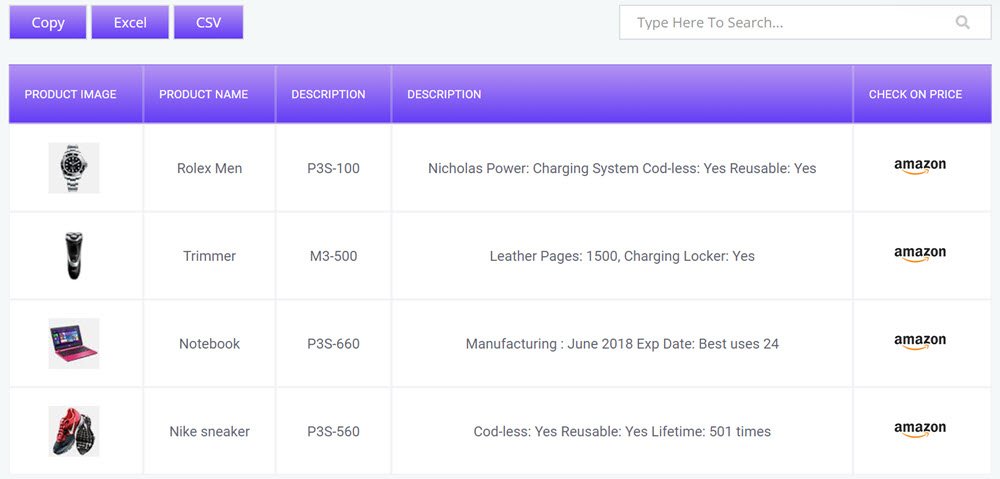 For a longtime, TablePress has been the goto plugin for tabular data.  So it is encouraging to see that Elements Kit has combined its Data Table widget with Tablepress. The sample of  possible table designs is impressive and there is a simple integration with the Data Charts widget.
The Advanced widget is a clever way to speed up development. The Advanced widget works with the Advanced Accordion and Tab Toggle widgets allowing them to accept Inner Sections from templates or pother components . The whole Templates revolution in PageBuilding is driven by acceleraing copy/paste operations throughout building a site. So sections like these are easier to build: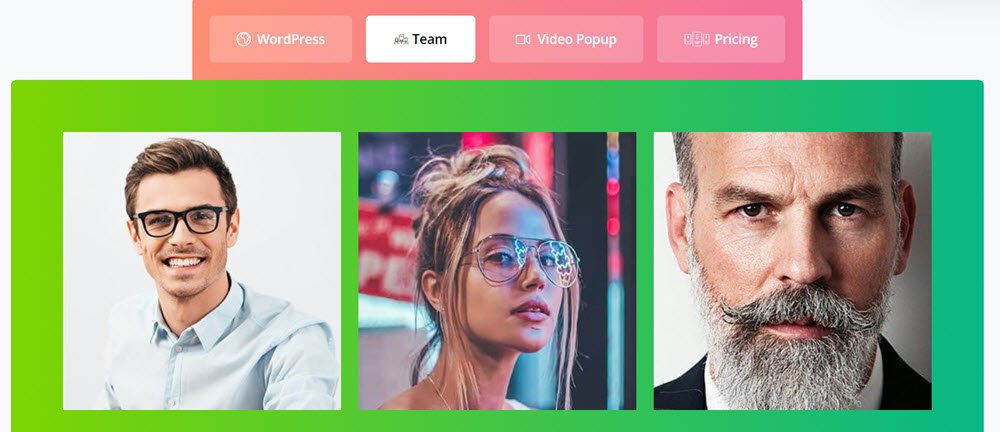 But the real delight in Elements Kit Pro will  belong to code savvy developers. They  will be able to create their own Elementor Widgets for their clients using th Widget Builder. The price of admission to using Widget Builder is good knowledge of  HTML, CSS, JavaScript plus a taretted dive into dive into the Elementor API. But the results is the ability to create Elementor widgets that meet a client's specific needs: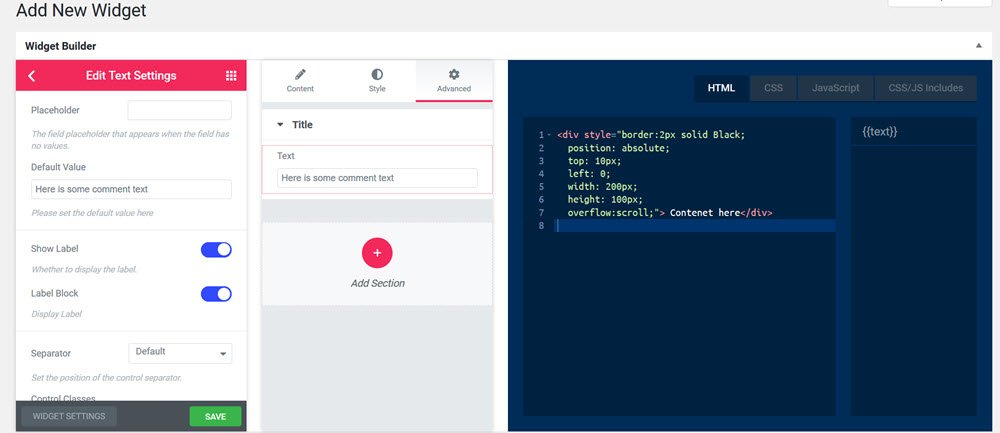 Summary
Elements Kit in its free version adds some powerful plugin capabilities to Free Elementor. And consider the Testimonials widget as extending to a carousel of team members or a list of best services on offer. And the Posts Grid allows users to show recent posts in engaging fashion. Couple this widget with the WP Search widget and you have a powerful tool for users to discover your best blog stories. In sum Elements Kitb Lite really adds oomph to free Elementor PageBuilder.
And the Pro edition of Elements Kit [now available at discount prices] adds features that are not offered in many Elementor add-ons. There are two MegaMenu widgets that allow users to design the precise Megamenu to meet their Shopping site or Restaurant menu needs.  Likewize there are two table widgets to handle the growing demnd for lists and tables in WordPress apps. 
But smart developers will be happy as larks with two special widgets. The Advanced widgets allows developers to speed up layout and design steps. And the Widget Builder, which does require HTML, CSS, and JavaSCript skills opens up the ability for developers to create their own Elementor widgets. Such an oportunity for a developer shop.