Remember the adage about Redmond – 3rd time charm. Well  Microsoft's Surface Pro 3 appears to garner that lucky state big time.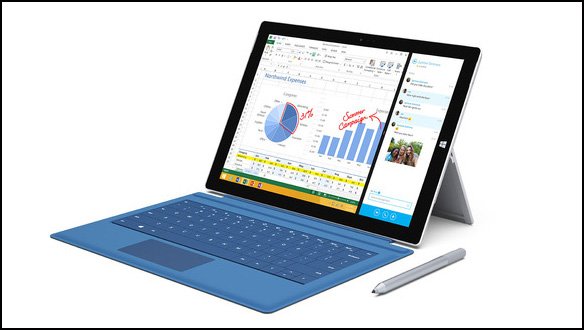 This machine announced today is already pulling in strong reactions all over the tech and business press:
Motley Fool
declares
"Microsoft Corporation Launches Thermonuclear War On Its Own Partners With Surface Pro 3"
Seeking Alpha
sees
"Microsoft's New Surface Pro 3 Is Stunning And Powerful"
Normally sanguine
Preston Gralla says
"3 reasons the Surface Pro 3 looks like a winner!"
[okay, its my exclamation point].
TheVerge notes
"Microsoft's Surface Pro 3 is designed to destroy the laptop"
Gizmodo
says
"Surface Pro 3 Hands On: A Laptop Replacement That Just Might Work"
theVerge
has one of the best reviews –
"How does Microsoft's Surface Pro 3 stack up to Apple and the rest of the competition?"
But if you want details go to
PCWorld
–
"Microsoft announces 12-inch Surface Pro 3"
Apple Insider
was careful saying
"is it the tablet that can replace your laptop"
Here is the crucial data:
Intel Core i3, 64 GB storage and 4 GB of RAM—$799
Intel Core i5, 128 GB storage and 4 GB of RAM—$999
Intel Core i5, 256 GB storage and 8 GB of RAM—$1,299
Intel Core i7, 256 GB storage and 8 GB of RAM—$1,549
Intel Core i7, 512 GB storage and 8 GB of RAM—$1,949
12-inch ClearType display, 2160 x 1440 pixel, 3:2 aspect ratio
256 levels digitizing pen
Weight: 1.76 lbs – lighter than iPad with help of Magnesium body
Dimensions: 7.93 in. x 11.5 in. x 0.36 in. – very thin
Wireless: Wi-Fi 802.11a/b/g/n/ac, Bluetooth 4.0 for mouse
microSD card reader & Full-size USB 3.0
Headset jack, Mini DisplayPort
The sleeper here is the digitizing pen. Microsoft has clearly taken the lead over MacBook with its superior touch screen operations and over the iPad with its mouse plus pen which can really go beyond passive fun and accomplish real productive work. I have an iPad Mini and for browsing the Web, playing games and watching movies it is quite handy. But to get real work done writing,  programming and debugging or doing extensive photo edits, both the iPad and MacBook are underachievers.
However, Microsoft has the David Pogue problem. In doing his review of Windows 8.1 for the NYTimes, David Pogue correctly identified Redmod's major OS problem – Windows 8, even with the much improved 8.1, is really two different operating systems, Windows Desktop and the new Metro -based interface smashed together. Interaction, between the two interfaces is like going out on a first date, some pretty awkward and clumsy interactions and little natural synchronization.
So with Surface Pro 3, Microsoft has got their hardware right and OS software still short. But  Apple CEO Cook better take the competition more seriously. But the question remains, can Microsoft CEO Nardella get Redmond's two OS DWToS-Dancing With The other Smoothy or  at least some degree of aplomb?