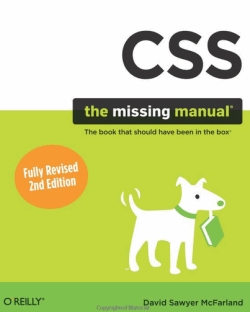 I have just been sent CSS: The Missing Manual by David McFarland at O'Reilly Press to review. So I am scouting through the manual to see how informative it is and to get first impressions. And I come across a sidebar comment – Should I Care About IE6. As readers who have visited this site before may well know, I am definitely not an enthusiast for any browser built by Microsoft, and certainly not IE6. So here is what David has to say about Caring About IE6:
"If you are a web designer, you've probably got the latest version of Firefox, Opera, Safari or Internet Explorer on your computer. Unfortunately, a surprising number of the world's web surfers still use IE 6 (otherwise known as the bane of web design)". According to Net Applications , a company that tracks browser usage, around 17% of people still were using IE6 in May 2009 (http://marketshare.hitslink.com/browser-market-share.aspx?qprid=0)…

Your main goal should be to make sure that everyone has access to your site's content. If IE6 users can get to your content, view it, read it, or download it without any hassles, then you have done your job. After that, you can worry about how much you want your site to match across browsers.

You can do lots of cool things with CSS that IE6 just doesn't understand… Even if someone visiting your site with IE6 can't see a highlighted text field, he can still effectively use your site and fill out that form."
Now the italics, underlines, bolding are not in the original, they are mine for a reason. Missing Facts.
First, if you are a Web Designer Google Chrome is in the list of browsers you must have and test with. Chrome along with Firefox  is the browser with the best compliance with CSS standards along with being consistently rated one of the fastest. David, as an advocate of CSS, should not miss this fact. Also David must be aware that IE8  is the worst browser for CSS compliance at just over 50% of hundreds of benchmark tests well behind Firefox and Chrome which meet 90% of those tests. Say no more about how well IE6 meets CSS standards.
Second, David uses the connector "or" instead of the "and" imperative. Web Designers truely worth their salt a)know that not much separates the top 4 browsers [Apple Safari, Google Chrome, Mozilla Firefox and Opera's Opera]  in terms of performance but  b)the gap is wider in terms of features and support for E4X, SVG, HTML5 and a host of  W3C plus other Web standards. Web Designers worth their salt will have all 5 of the major browsers in their testbeds to track these feature variations.
Third, the reference to 17% of browser market share to IE6 in May 2009 is flat wrong – my reading of the May 2009 data on the same site is 30% for IE in May 2009 and 24% in October 2009]. Strange 13% discrepancy although the downward trend towards David's  17% may very well be hit by the end of this year.
Fourth, my main concern is that David like many other Web Pundits is pulling his punches when describing IE 6 features and support for Web standards. Just see what WaSP the supposed Web Standards people are doing or SitePoint is supporting with some of their books. In short, despite being the worst adherent to W3C and other Web standards and now just plainly late or remiss on standard  features ,Microsoft continues to get kid glove treatment from reviewers. I read the Should I Care About IE6 [see the italicized paragraphs above] and see the notion of deference: be happy with what you got from Microsoft's IE6 , work around it [anywhere from 10-40% of your project time can be devoted to such work arounds], and wait for users to switch to IE8 which still fails on 50% of W3C CSS tests.
With this type kid glove treatment from IT and Web pundits, Microsoft has been able to preserve a "systems run best in Windows" mentality when in fact as computing moves towards the Cloud, Microsoft software is the only major vendor that is seriously remiss on delivering Web Standards. Why? because with  proprietary extensions in  IE8, SilverLight, Azure and other Microsoft "Web software", the only way to get the most out of Windows apps + the Web  is to use Microsoft designated programs.  So what will be interesting to see is whether:
1)Web writers and experts will have the guts to tell it like it is – Redmond, Emperor of the Web browsers and software, has no clothes;
2)much better browsers like Chrome, Firefox, Opera and Safari will finally break the IE8 Windows based monopoly;
3)Apple's Mac OS/X and Google's ChromeOS will be able to make any headway against the under-performing bloatware that is Windows 7/Vista beyond mobiles and maybe Netbooks.
Gosh what an auspicious start to reviewing CSS:The Missing Manual book. Stay tuned for that review.